Hi everyone thank you for all your gorgeous entries in our challenge 77.
The design team and I had a wonderful time looking through all your excellent makes.
Each week you make it so much harder for us to choose our winner and design team favourites
But here they are....
DESIGN TEAM FAVOURITES
No 20 - Jana K
No 31 - Lou Sims
No 90 - Judy Mc Kay
No 110 - Dreja
No 141 - Jen L
No 211 - Fairytale Daydream
Congratulations please take your design team favourite badge
WINNER
No 43 - Ina
With this beautiful christmas card
Please take your winners badge and
e-mail
fiona.walker3@aol.co.uk
for details on how to claim your prize
Thank you to our fabulous sponsor
Deedee Digis
CHALLENGE 78
This week we have two fantastic sponsors for you all.
Fred She Said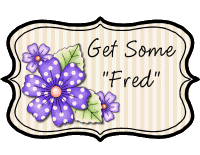 and
Dis Digi Stamps